Flux - SAM - Location scouting till shoot in 4 days - January 2015
Olala no time for location scouting ... the very sympathic arthouse cinema movie production Velvetfilms from Paris were in desperate need for snow. As after having two disappointing experiences in the french and the italian alps, they came north and found what they were searching for: Snow, which was really hard to find in this "early winter". Within 4 days of prepare time we needed to scout locations for a Crosscountry World Cup Stadion, beautiful crosscountry trails in great nature and some small indoor locations. obviously logistic doable with a full set up cinema unit with 40 people crew, 50 extras, 4 trucks, 2 sprinters, 4 vans, some cars etc... challenge accepted and mission accomplished.
---
The Hostage - Rukojemnik - 2014
If there is no snow in Slovakia, Tyrol has it.
---
Skidownhillrace Hahnenkamm Documentary by Gerald Salmina
The most spectacular downhill skirace in the world. The Hahnenkammrace or the so called Streif is the event, where the whole world looks to the location Kitzbühel in the tyrolean Alps. Gerald Salmina a passionate skier and director of Mount St. Elias and countless documentaries took up the challenge to produce and direct a documentary about the legendary race. 12 alpine movable cameramen, sound engineers, journalists etc had to be found. it was like a meeting of good old friends. looking forward to seeing this movie!
---
Pointbreak 2 Location Scouting with Ericson Core - 2013
Requested locations by Location Austria where a medeval town, high alpine skiing and snowboarding locations, streets... thanks to many different possibilities, which we find here in Tirol we used a helicopter for efficient locationscouting. In the end there was a location found in one medeval oldtown which was used for shooting.
---
Ian Fleming Dokumentary, reenactments Telemark Style - March 2013
Shooting reenactments for a documentary about James Bond author Ian Fleming challenged us to scout for untracked powder with nice sunlight in a winter with quite poor snowconditions. During Locationscouting with director and skiing DOP Jens Hoffmann we found ideal locations. Our oldschool Telemarkers showed great performace while acting hunting each other, like  the  Fleming brothers did in the thirties in Kitzbühel in Tirol, Austria. The Austrian Alps play a role then aswell, when007 Mr. James Bond learns to ski, he does that in Kitzbühel.
---
Krabat by Marco Kreuzpaintner - 2007
A classic german fairytale directed by Marco Kreuzpaintner offered the challenge to find a snowy place in may, sure a location that is not everywhere availale, especially not easy to reach with a big crew with a lot of technical equipment. due to weatherproblems while shooting in romania the crew had to move to the alps to find this amazing place to build the set. building the set required a smart concept and some alpinists with the power to work in this high altitude above  3000 meters to collect stones and move them from one place to another. we moved tons by hand... hard work great film! thanks, we enjoyed the premiere in munich a lot!
---
Mount Saint Elias - 2007
Shooting an reenactment for Mt St. Elias, a movie about the longest ski descent. In Alaska in the St. Elias Nationalpark there is this unique possibility to ski from 150000 ft down to the ocean. We arranged a stunt as an reenactment for a skiing accident that happened on one of the past skiing attempts.
---
Unter Verdacht - 2006
Year: 2006
Our job: Location scouting
---
Firn - 2005
Year: 2005
Director: Axel Koenzen
Our job: Location scouting, Alpine consulting
Shortfilm, finisfilm DFFB, 4th place Cannes – New Directors Award
---
Morbus Dei - 2004
Year: 2004
Director: Matthias Bauer / Jan Zach
Our job: Location scouting
---
Last Holiday - 2004
Year: 2004
Director: Wayne Wang
Our job: Location scouting, Stuntman
---
Der Räuber Hotzenplotz - 2004
Year: 2004
Director: Gernot Roll
Our job: Location scouting
---
Eddie 'The Eagle' - 2004
Year: 2004
Director: Kirk Jones
Our job: Location scouting
---
Bourne Supremacy - 2004
Year: 2004
Director: Paul Greengrass
Our job: Service production 2nd Unit
---
Mission Impossible 3 - 2004
Year: 2004
Director: Joe Carnahan, Kevin De La Noy
Our job: Service production
---
Die Fetten Jahre Sind Vorbei - 2003
Year: 2003
Director: Hans Weingartner
Our job: Location scouting
---
A Bend In The Road - 2003
Snowboarder - 2003
Year: 2003
Director: Olias Barco
Our job: Serviceproduktion
---
XXX - Triple X - 2002
The Extremists / Extreme OPS - 1999
Year: 1999
Director: Christian Dugay
Our job: Location Manager Hafelekar
Link: Extreme OPS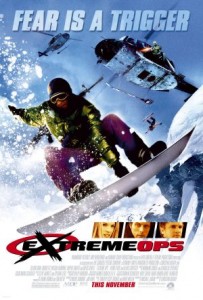 ---